It seems that load shedding isn't going away any time soon.  So, what do you do when the power is out and you still need to make and receive calls? When electricity is load shed, many communication methods, such as the internet, computers, and telephones are left without power. Even though load shedding is taking place throughout South Africa your clients, friends and family might be on a different schedule. This means that you could be missing their calls. This is particularly bad for business and in critical situations.
What happens to your VoIP Phone Solution during load shedding?
It's very simple; a lot of equipment relating to your VoIP solution won't work. Modems, routers and switches as well as your VoIP phone won't have power. This means you won't be able to make or receive calls. This might not seem too bad because you still have your mobile phone right? Wrong! In a recent IT Web article, Vodacom, MTN and Rain all agreed that load shedding is impacting their networks. This means your mobile service could also be affected.
How do you avoid losing communication with your customers, family and friends when the lights go out? Luckily, there are options available to people and companies using a VoIP solution. Options that should ensure that you are covered during these frustrating times. You might want to take advantage of them if your office or home loses power.
An Inverter and Battery Backup System can keep you communicating for longer
An inverter with battery backup will ensure that you have continuity of operation during power outages. Depending on the size of the inverter and the number of batteries, you can power more than just your VoIP phone. You'll also be able to power modems, computers, lights, security systems, fridges and much more in your home.
In an office environment, you can have your router, modem, and switch plugged into an inverter. This will ensure that if the power goes out, these items stay on. You could also keep your desktop phones plugged into the system to ensure they still function as well.
There are many different types of inverters with battery backup systems on the market that are appropriate for different types of applications. It's important to work out what you need to keep running when faced with load shedding. It's also important to remember that the unit needs to be sophisticated enough to handle all devices connected to it for at least a period of 4 hours. This seems to be the longest period we can expect to experience load shedding according to the stages as outlined by Eskom.
It's very important to do your homework before purchasing this type of power system. They aren't cheap and some units will need a specialised installer to install them.
Having said that, if you are reading this article, you are well aware of the dire situation our national power supplier is in. And as such the purchasing of this type of system should be seen as a worthwhile investment.
Set up Call Forwarding on your VoIP Line or VoIP Trunk
If you have a Switch Telecom VoIP Line or Trunk, it's very simple to set up call forwarding to route to a mobile phone. During a power outage, this is a very helpful and easy way to stay communicating.
Log onto the Switch Telecom Client Zone, click on the relevant solution under the Service Details section and select Call Forwarding. Simply input the number you would like calls to forward to under the unavailable section and click update.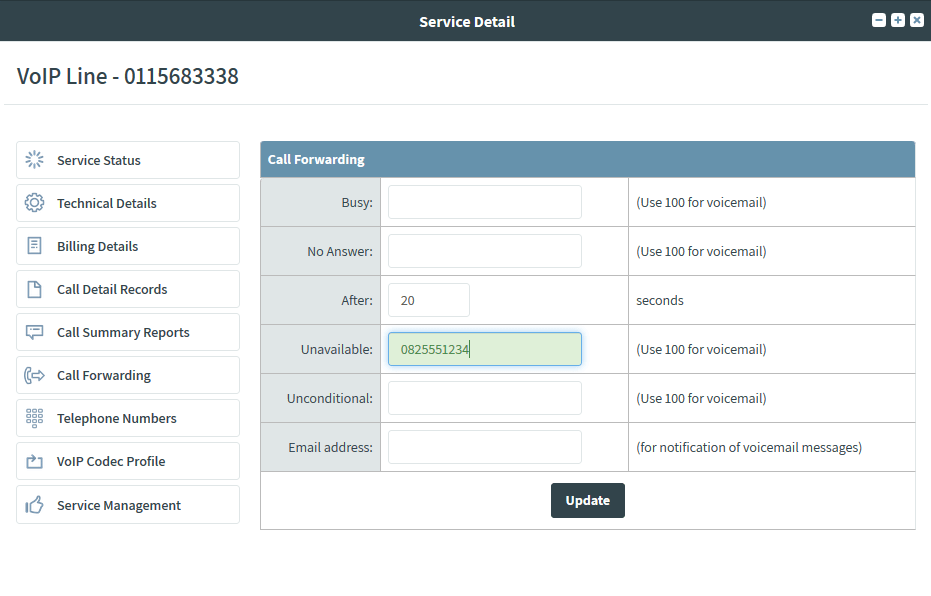 Set up Voice Mail on a Switch Telecom VoIP Line
If you prefer, you can also set up your call forwarding to route your calls to voice mail during load shedding. Switch Telecom VoIP Line clients are able to use this option. Voice mail should be set up on the PBX itself if you have a VoIP Trunk. The same would apply to a Hosted Switchboard.
Firstly you'll need to set up your voice mail on your VoIP Line. Simply dial 100 and press 0 for mailbox options. Press 1 to change your unavailable message. 2 to change your busy message. 3 to record your name and 4 to manage your temporary message. Once your mailbox has been set up to your satisfaction, log onto the Switch Telecom Client Zone. Click on the relevant VoIP solution within the Service Management window and in the unavailable section enter the number 100. Click update to save.
You can access your voice mail from your mobile phone by dialling 087 550 0100. Simply input your VoIP telephone number for both the username and password when prompted to enter this detail.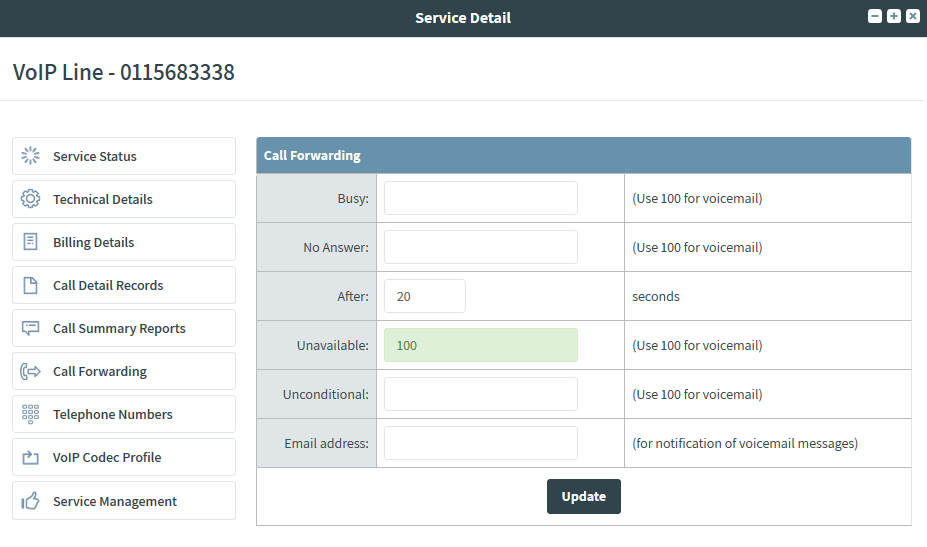 Set up Voice Mail or Call Forwarding on a Hosted Switchboard

Clients with a Hosted Switchboard solution are able to prevent missing important business calls when the power is out in a number of different ways.
Calls can be forwarded to voice mail and your voice mail can be retrieved via email using your mobile device. This is not an ideal option as people calling your business won't be able to speak to anyone. It is, however, a lot better than not getting through at all.
If you are happy to pay the cost to forward calls then it's very simple to set up call forwarding on your main number or on an extension level to mobile numbers or even other numbers, not on the Switch Telecom network. Forwarding a call to a mobile phone from your Switch Telecom service is charged at our standard mobile rate.
Use a Softphone on your Mobile phone during load shedding

Business clients with a Hosted Switchboard can use this option to make outgoing calls. You can also receive incoming calls. Notably, you'll save money calling over a VoIP network as opposed to a mobile network. Although there will be data charges.
Companies with multiple branches can forward calls to each other during load shedding
This is another simple option to ensure that your customer gets to talk to someone, even if the power's out. If your company or business has more than one branch in different areas and assuming they are both using the same Hosted Switchboard solution, you can forward calls from one to the other during load shedding at no extra cost. Just be sure to check each branch's load shedding time schedule to ensure that they aren't being load shed at the same time.
This particular option works extremely well for some businesses and is completely improbable for others. For instance, if one branch is all salesmen and the other branch is all administration, forwarding calls one way or the other might not work since some staff may not be able to handle inquiries.
Our clients can set up all these options using the Switch Telecom Hosted Switchboard Gui interface. Or if time is of the essences one of our VoIP Specialists can customise the solution for you.
Even during load shedding you still have control of your VoIP Solution
There seems to be no way of avoiding the impact of load shedding besides going off the grid completely. When load shedding rears its ugly head you shouldn't be without communication. Unlike a traditional switchboard or analogue telephone, a VoIP solution gives you multiple options to stay connected.
Contact us on 0875500000 or email us at support@switchtel.co.za with any questions you might have and we'll be happy to help.